Nancy Dawson - Kauai, Hawaii Artist
Bio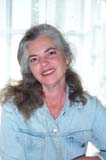 Nancy Dawson was born in Buenos Aires, Argentina to her American mother and Argentinian father, in 1950. She and her brother and 2 sisters spent a happy adventurous childhood until, with the political unrest of 1960 the family reluctantly left Argentina and the Peron regime behind. One of Nancy's most treasured memories is of boarding a Japanese freighter and for the next month travelling up the coast, through the Panama canal and on to San Francisco. The family settled in Lafayette where she grew up. Nancy fondly remembers riding her first horse through the walnut groves around Lafayette and Walnut Creek, groves which are only a memory now that urban sprawl has eaten the countryside up.

After finishing high school she lived briefly in San Francisco. In 1971 she and her mate moved to Point Arena on the Mendocino Coast, where she had two children, her daughter Dae and her son Jasper. A passionate gardener, her farm was one of the first in the area to be certified organic. She home-taught her children, was extremely active in community affairs, and basically lead a life of a homesteader, as near to self-sufficiency as possible.

In 1979 she met in Point Arena a vacationing artist named Susan Olsen. Many things about Susan caught Nancy's attention, but what realy snapped her head around were the examples of a kind of paper art Susan was practicing.

Nancy began to visit Susan at her home on Kaua'i, Hawai'i during the winter months when rains kept everybody indoors. Susan gladly taught Nancy the technique, and this new paper art became Nancy's obsession. During her stays she would do little else. Always an artist in everything she did, she picked up this new medium as if born to it. When back in Point Arena she would dream of pieces to make.

In 1996 she returned again to Susan's, where, near the end of her stay, she met a man and fell in love. Within two months she had moved back to Kauai where she lives to this day. In addition to being a multi-media artist (before hand-made paper her media were acrylics and oils, which she continues to experiment with), she is a superb gardener and a master cook. Some of her other passions include sculpting, beading, and treasure-hunting.
Artist's Note:
The craft of papermaking encompasses many of my passions. By using nature's plants in making the paper, and nature itself as inspiration, my art is created. Shapes, textures and colors are so essential. Naturally impressionistic, this medium so satisfies my creative instincts. Therefore I'm glad to present recent works, made with love and aloha, that are meant to relax and enhance.